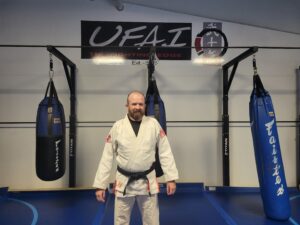 Prof. Dennis Sherman: 
White belt(faixa branca): Sept 2007
Blue belt(faixa azul): May 2008
Purple belt(faixa Rosa): January 2010
Brown belt(faixa marrow): May 2013
Black belt.( faixa preta): June 2017
1st Degree: July 2021
I wrestled in high school with some success. After a number of years (20 +/- but who's counting)  I felt the need to compete again. Not long after I saw Royce Gracie in the first UFC. I knew I had to find
BJJ
and did. I have been hooked ever since. I have competed many many times over the years also with some success. But, I  have long forgotten how many wins or losses I have had over the years. I enjoy passing on what I know and look forward to sharing it.